Hand crafted designs for fashion and living
516-739-4660
516-707-4644
Suede Jackets - Suede Bags & Backpacks
Our womens suede jackets are made of soft, supple hand crafted leather. Very simple, classic styles, but they make a huge statement. Fully lined, So flattering and so hip! These gorgeous ladies suede jackets have round collar, long sleeves, and side pockets. The most exquisite details are the delicate embroidery that adorns the edges. Fully lined with satin. Made of 100% genuine suede.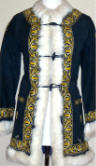 Blue Green suede coat with golden yellow embroidery,
white fur trim, toggle closure. Size 8, medium. Cost $139.
No.818
Free Shipping with the US

Light Brown PlusSoft suede Jacket with med. yellow floral embroidery. Size 18-20, toggle closures $149.
No.1820
Free Shipping with the US




HAND EMBROIDERED SUEDE BACKPACKS & SHOULDER BAGS:
These backpacks and shoulder bags Pocketbookare extravagantly and lushly detailed,
brand new hand made by skilled artisans in Kashmir India. Lightweight.
Zip close
Both sides of the bags are accented with pretty floral embroidery throughout, with zippered compartments. The flower detail is on the front and back. Long straps. Three zippered compartments. Very unusual! Special detail you will appreciate for years .Lightweight and beautiful.



Suede Mini-Backpacks
15 tall x 10 x5
Bottom outside flapwith 2 zipped side pockets Drawstring inside. Top of bag has an outside flap with buckle close - very secure. Beautiful embroidery in rich colors.

Main compartment opens on the side
Himalayan Int'l Trading 205 Mimeola Blvd. 1B, Mineola, NY 11501 Tel: 516-739-4660 email: hforders@homeandfashionimports.com